What's up guys 🙂
That's what's up. To show ya'll my gratitude, I'm giving away an Amazon giftcard worth $25, links found at the end of this post 🙂
It's hard to describe how I'm feeling right now, but I found the perfect gif. I can't jump on clouds, even if I could, I couldn't be this happy. I mean just look at that sheep just jumping from cloud to cloud with that carefree happy-go-lucky attitude. But I'd like to think I'm feeling like that 🙂 Go on little ram, and continue happily jumping on clouds!
Once you start the gifs, there ain't nothing that can stop it. Seriously, if a picture speaks a thousand words, a gif speaks a thousand pictures. Am I making sense? Not really but who cares.
A toast to all my blogging friendos. 
I caught you off guard with that didn't I, friendo? Good job if you caught the reference. Oh no this post is far from over, proceed at your own risk while I go on a happy-wonky streak. At this point, this post is just gonna get weirder.
Anyways, I feel like a champion rn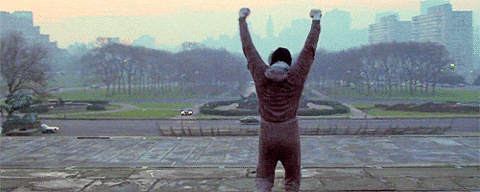 Wait. I haven't seen Rocky.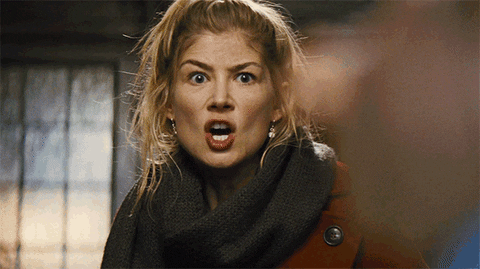 Uh huh, I'm gonna get so much hate for this. Maybe it's time to consider something other than reviewing movies. I'm not qualified…
I imagine myself being like orange juice getting thrown into the dumpsters, people be like "GET OUTTA HERE!"
BUT GUESS WHAT?
Because this is what I love doing and WILL continue to do! I'm a little out of touch with older films but IDC! OK, maybe I care, but yeah. Imma continue what I'm doing and thanks for all the support you guys have shown 😉 I really appreciate the time you guys take to read what I have to write even though you all have busy lives to lead. I'm particularly touched by the friends I've made through blogging and all the things you say to cheer me up when I'm feeling down or offer me advice on this big weird thing called life. You know who you are 🙂 Means alot 🙂 Yes, that's right, I'm going to continue to make this blog even better. To everyone, thanks for 300.
And here ya go, if you wanna win a $25 Amazon giftcard, enter here. Just pick the email option (don't bother about the facebook option) and enter your name and email and you're done!
Ok update here, it appears that the rafflecopter thing isn't working for some reason, so anyone who likes and/or comments on this post will automatically be entered into the pool to win the gift card. I'll use a random generator to pick the winner 😉 I will close this next friday, so there's about a week left to participate!