Few films have been so honest about the human condition and so unabashedly real, that you just don't feel like you're watching a movie. Moonlight is that kind of experience. Its subject matter is refreshing on screen, its stylized elements are unique and it bores into your experiences. Moonlight,centering around a black homosexual protagonist and the stages in his life, is a breakthrough for a sub-group of minorities who have up until this point, almost zero significant representation on the big screen. On the outset, it is undeniable that Moonlight is quickly becoming a zeitgeist of humanizing the way that Blacks and LGBT are being portrayed. Even as social discrimination, poverty and crime remain central to the story, it's characters are not shoe-boxed into the themes' cookie-cutter stereotypes. So yes, it is getting alot of attention because of that and why shouldn't it…we should all be portrayed equally and fairly. But I can attest that Moonlight's real power isn't all about fair representation. As I watched Chiron's coming-of-age, there was something else,something deeply tender and sensitive about the interactions between characters that made me cry on the inside. I thought about the film long after it had ended, thinking about the ways we try to mask our fears and hate. I thought about how the people we meet leave an indelible impression on our identities…and about how we all, irrespective of what we have gone through or become, yearn for affection.I don't come from the same place as Chiron, but Moonlight is digs deep and finds universality in our experiences. And I guess that's kind of the point of Moonlight-That all of us are more beneath, we all long for affection and love that makes us whole.
Through Barry Jenkins direction and Tarell Alvin McCraney's script adapted from his own experiences growing up in his neighbourhood, Moonlight is a combination of stylish direction and a softer personal touch. Sometimes it over-reaches into excess, and hyper-realized scenes sometimes lack the vigour it is trying to convey. But it is the conviction of the script that sees it through its flaws. For the most part, the film is at its most moving when Jenkins captures the raw tenderness, uncomfortable silences and subtle shifts between characters. I remember reading reviews of Carol (a movie which I didn't like) praising the film for exactly that kind of sentiment. But it's different. Carol dwells in the subtle moments so much that romance becomes ennui and character progression is too faint to grasp. In Moonlight, you could sense the forces of the world encroaching upon Chiron, constantly displacing and reshaping his identity. It is a powerful examination of who we are or as Kevin (Andre Holland) asks Chiron (Trevante Rhodes), "Who is you?"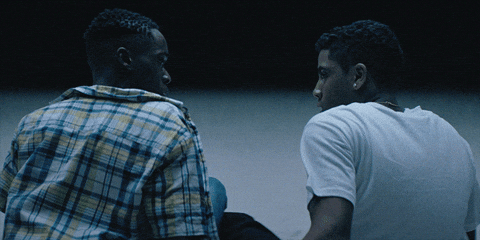 Praising a film is useless if actors don't play the part. The acting is ferociously real and powerfully subtle and it is probably Moonlight's most powerful asset. Barry Jenkins trusts his actors enough to convey power through being real. It isn't the kind of contrived acting and dialogue aimed to conjure a certain feeling. Mahershala Ali's screentime is brief, but his turn as a drug-dealer with a heart is far from contradictory. Ali makes his character entirely accessible and does more in ten to fifteen minutes of screen time than you would imagine. Naomie Harris is the drug-addicted mom who was never there, but a later scene in the movie is testament to the heart-breaking portrait of a hurting soul. And when we look at the main feature of the narrative, Chiron and Kevin's (to a lesser extent) progression encapsulate the facets of change in our life, and the kind of vastness of the human experience. It is a friendship, a forbidden love and sexuality, and about all the burning obscurity that comes from trying to reconcile these feelings. Jenkins' decision to get three actors to play Chiron and Kevin's at three stages of his life is a huge gamble that paid off. All of the actors who played Chiron were phenomenal as they tried to define the protagonist in their own terms, colouring a fully rendered delineation of a tender soul that's deeply searching and moving.

In the end, Moonlight left me speechless. It is a gloriously human film accompanied by Nicolas Brittell's sweeping orchestral score and James Laxton's beautiful high-contrast cinematographic design and warm colour tones. Apart from the bold earthly aesthetic, Moonlight makes use of hyper-realistic scenes that stare directly into the characters, as they stare back as if they're conveying their thoughts straight to you. The visual poetry of Moonlight even extends to subtle surreal asides like Chiron staring into waves on a beach or a dream with the moon reflecting bluish light, but these don't last very long; Moonlight's metaphors are subtle but sharply attuned to Chiron's state of mind. Regarding the implications of the film, Moonlight is unconventional and groundbreaking but, more importantly, a timely breakthrough in the way minority groups are portrayed. Personally, I've never seen a film that spoke to me more than Moonlight has. It's hard to describe a film about love, friendship, difficult circumstances, fate, purpose, moments of our lives and the endless search for who we really are. But if I could, in the same vein as how the movie ends, it's this – We live a lifetime full of moments and sometimes, by choice or design, live moments that shape a lifetime.
Rating: 10/10.