On Body And Soul, 2017 Berlinale winner for best film, is quite possibly the most beautiful and most important love story of 2017. Centered around the growing relationship between a handicapped man and a woman on the autism spectrum, the hungarian film spotlights characters you don't usually see everyday dealing with ordeals that we can all relate to on some level. Set against the backdrop of a meat slaughterhouse with occasional shifts to a wintery dreamscape, On Body And Soul is an interesting film full of eclectic narrative elements. Slow-burning and intensely intimate, On Body And Soul is a powerful depiction of the desire to connect, to love and be loved. Surreal yet equally grounded, it is an important visual experience that not only casts an empathetic light on outsiders in society but also naturally explores the way in which everyone, to some degree, is an outsider in our own ways. I don't mean to be smart about it but I genuinely found On Body And Soul to be quite the soulful experience. I can't recommend it enough.
For all the buzz surrounding female directors like Patty Jenkins, Greta Gerwig and Dee Rees in 2017, it is worth noting that there's a whole slew of lesser known female directors making equally powerful works of art. Ildiko Enyedi is one such director. I absolutely adored her film-making approach. I found very little I didn't like about the film while I loved almost every second of this delicate film fueled by the warm glow of empathy and love. Enyedi's characters draw you into their world and their problems naturally become ours to care about. The way she casts her gaze upon her characters is illuminated with a deep understanding for their internal fragility and a desperate longing to connect. Between shots of characters encased in the loneliness of gloomy nights to the clever use of boundaries like windows and doors to mirror the boundaries of interaction and desire, Enyedi's film-making is extremely provocative and thought-provoking.
But the film is as much a director's work as it is an actor's showcase. Driven by painfully realistic performances, Alexandra Borbely and Geza Morcsanyi blew me away in this. I was shaken and riveted by their portrayal of their own individual character in all their beauty and vulnerability. As for their characters, it eas emotional brutal to see their own insecurity hamper and disrupt the building blocks of their relationship that they've so painstakinly lain. While Geza's character's personal loneliness comes mainly when he's alone, Alexandra's Maria is immediately ostracized in a way which hits home hard. Just like most of us, we instinctively turn away from people like Maria. We immediately characterize people on the autism spectrum is 'that' type of person with 'some' type of pre-set characteristics…thereby robbing ourselves the chance to see them as someone who's struggling and desperate to connect. We rob ourselves the chance to know them.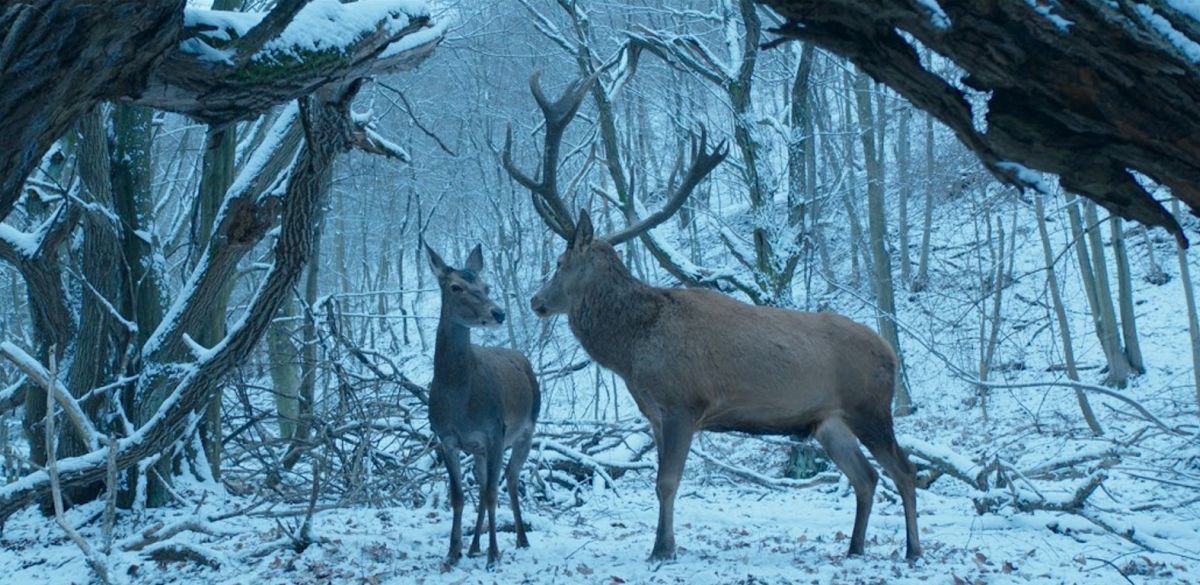 On Body And Soul's balancing act of warmth and hard realism really struck me in more ways than one. This is, in large part, due to how a single downward shift of the eyes can convey the overwhelming sense of fear to reach out or even start a conversation. Both Geza and Alexandra seem to be very attuned to the unique challenges their characters face while understanding that they share some common universal fears that all of us experience as well.
In the end, On Body And Soul takes us through the wringer of it's eccentric love story in all it's brutality and beauty. Amid it's telepathic dream sequences of beautiful deers to the cornucopia of interesting characters in the meat slaughterhouse, I found On Body And Soul to be a film driven by an intense love for and of its characters. And perhaps it is true that we all need love to save us from our own hopeless place.
Rating: 10/10 One of the best films I've seen this year.  You can find it on itunes and other streaming sites.