Adapted from Joanathan Ames' novel of the same name, Lynne Ramsay's bleak thriller unfurls a phatasmagoria of urban hell, clinging trauma and the depravity and desolation of broken characters. You Were Never Really Here is uncompromising to say the least. Flashbacks give Joaquin Phoenix's hitman character layers upon layers of tragic characterization (abusive father, PTSD from war etc) which is compelling but becomes a layer too many. The film's biggest weakness lie in over-reaching, in imagery or backstory, to create meaning beyond what audiences can already identify with. Instead of giving more depth, the film is sometimes too spectacular to fully immerse in and too unbelievable to believe. Though Ramsay's abrasive style is double-edged, You Were Never Really Here is still an original creation with few boundaries. You Were Never Really Here is not at all concerned about being radical, offensive or brutal; It is hell-bent on shocking the living daylights out of you.
It is easy to see why Joaquin Phoenix won Best Actor at Cannes for his interpretation of a hitman who's hurting both in mind and soul. In one scene, Phoenix sinks toward the end of the seabed. As he's just about to let go, he finds a sort of moral purpose in the consuming darkness and rises back up like a messianic figure. In another scene, he breaks himself down to tears as death is everywhere beside him. There are other shocking moments of pure madness and mayhem. But there are also flickers of humanity and light that highlight his character's brokenness and desire for salvation. Indeed, if not for Joaquin's beautifully brutal portrayal, the ironic power of a messianic hitman would be lost.
This ironic idea that Joaquin Phoenix's Joe, a professional contract killer, is our one true savior in troubling times is possibly the most interesting interpretation of the film. The dark underbelly of upper society runs deep and conspiracy is rife in Ramsay's film. Jonathan Ames' (author) allegory that the upper echelons of society are mired so deep in their own filth that we can find hope and redemption in a contract killer is deeply in-your-face and deeply resonant. However, Lynne Ramsay's ideas are delivered with such flamboyant and surreal elements that make it easier to marvel at than to be shocked by. Some of the gritty realism is lost. Yet overall, You Were Never Really Here translates powerful and disturbing imagery into a shocking nightmarish reality.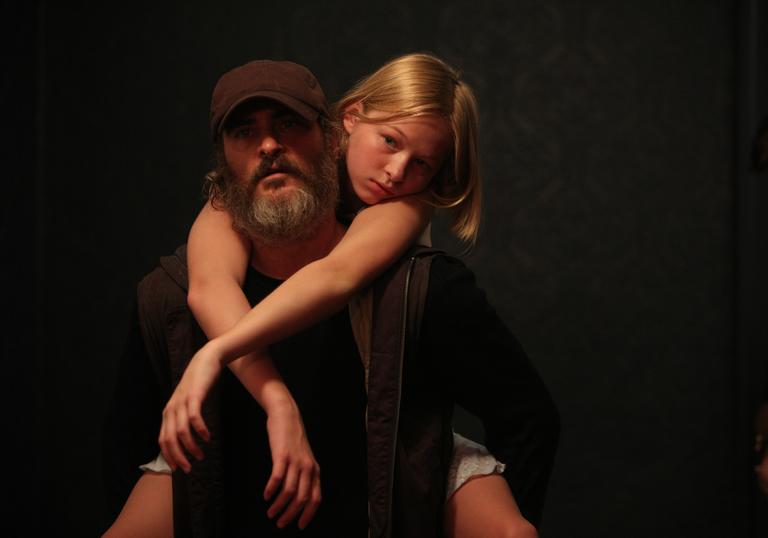 For all the comparisons to Taxi Driver, You Were Never Really Here is a different animal. With a greater focus on the other main victim in the film portrayed by 15 year old Ekaterina Samsonov, there is a lasting bond that makes this fundamentally different from Taxi Driver. The last few scenes gives me the idea that we see her brokenness as well. There is some sort of mutual dependence going on between Joe (Joaquin Phoenix) and Nina (Ekaterina Samsonov). There is a hard-earned grasp at a new beginning; A rare chance for spirit healing. There is a break in the cycle of isolated pain and trauma as these two characters find comfort in the other. You Were Never Really Here is ultimately a film about humanity in brokenness and more troublingly, the brokenness in humanity.
Rating: 8.2/10