I haven't been posting lately as I've been so busy lately but I have a break of a few weeks so I'm back at watching movies and reviewing them. Hope you guys have been doing great! To kick things off again, here's a movie I recently watched that was honestly one of the best I've seen this year. Happy holidays amigos 🙂
Menashe is a heart-wrenching drama that had me crying buckets of tears throughout the film. At the core of the film, what struck me was how much I could relate to Menashe (a Hasidic Jew in New York City) even though I (along with most of us) don't even have a glimpse of his community and life. What was so moving was how human Menashe's reactions were even as his life is dominated strict religious codes. What makes Menashe one of the best movies I've seen this year is its abundance of empathy and understanding. Josh Weinstein reaches into one of the most alienated communities in the heart of America and finds pain and joy, suffering and redemption and most of all, shows the way in which others aren't very much different from us.
Menashe's humble plot revolves around Menashe played by Menashe Lustig who actually lived as a Hasidic Jew in one of the most secretive Jew communities in New York. It was a challenge just to get the film made inside the Hasidic enclave and Menashe Lustig who plays the protagonist in the film revealed that he did not get prior permission from the community leaders to act in a film. All of the real life implications that arise from the film only adds to the all too realistic veracity of the film's subject. Adapted from his experiences, Menashe is incredibly tuned in to draconian religious laws that govern the Hadistic Jew communities. It almost feels documentary-like at times. Beautiful camera work especially when capturing the dialogue and interactions between characters makes Menashe a highly humanistic film. There is certain beauty to the way the film is shot; There's even more beauty in what I gained by watching it.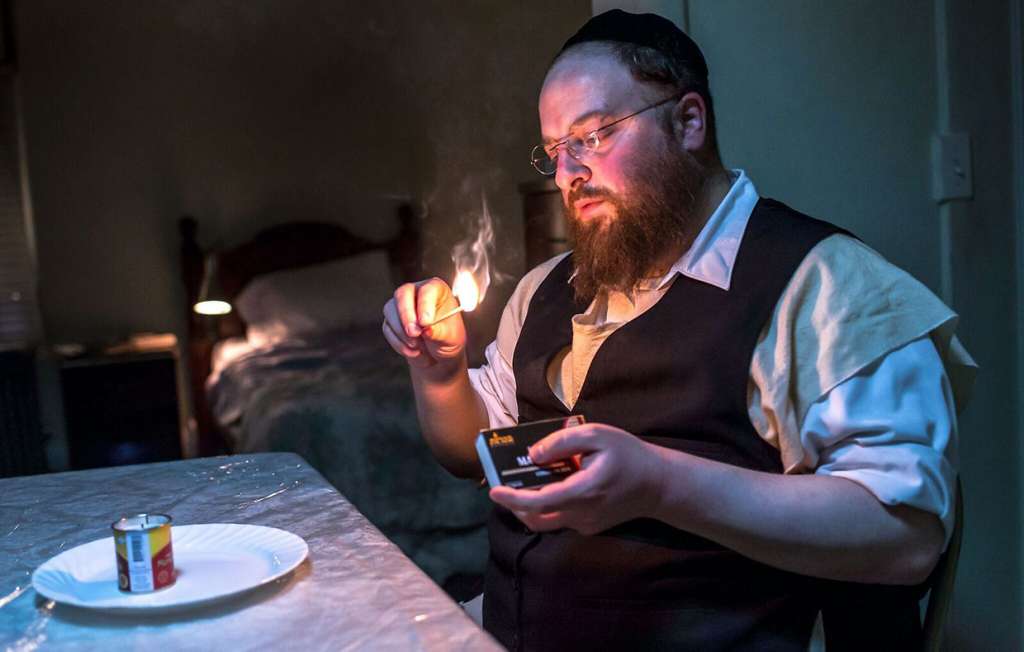 Menashe's struggle to keep his son after the death of his wife may seem, at first, too taboo and removed from our capacity to relate. Though Menashe's community rules do not apply to mainstream society, you'll find his interactions and struggles to come to terms with his challenges is quintessentially human and heart-breaking. What's most moving about the film for me was how Menashe was just a person trying to get through the hustle of life. Amid the overbearance of religious customs, Menashe's perfectly human reactions to them is a powerful depiction of the human experience. It is a gut-wrenching reflection for us to consider those we've considered 'other' and the way that we've stigmatized against them. Moreover, for religious communities, it is a perfect illustration that we are more than our beliefs; Perhaps there is something to be said about the importance of empathy and acceptance even in communities dominated by draconic religious doctrines.  Menashe isn't just a fantastic film. In our current climate of segregation and a lack of empathy, Mensashe's experience and struggle is a reminder that all of us go through the same joy and pain; We are not that much different from another.
In the end, first time actor Menashe Lustig's performance was absolutely moving. The film, as a whole, was full of simple scenes that created the most lasting impressions. Menashe's beautiful string-like is symphonic and touching, adding to the ability of the film to get underneath our skin and make us cry. I was so moved by how touching the film was and I was so touched by the genuinity of the film-making and the soul-stirring human experience at the heart of this film.
10/10 My second perfect score of the year. If you'd like something heartwarming this Christmas, put aside the saccharine stuff and watch Menashe. You won't regret it. Available on Itunes.